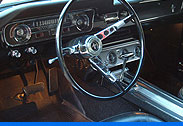 :::::::::::: Year ::::::::::::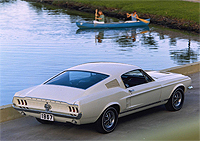 1967 brought a redesign for Mustang, but nothing too serious. I think that this redesign made the mustang a tough looking car of its era. The front grille changed slightly keeping the running pony in the corral, but vertical and horizontal bars returned, and the grille opening was enlarged. The side scoops, though non-functional and completely asthetic, were designed as two smaller scoops with inlets and were painted the body color. Despite the body style change, coupes, fastbacks, and convertibles were still offered, but the fastback in 1967 extended fully to the rear, giving the car a beefier and meaner look than the fastbacks from 1965 and 1966.
This brought birth to the convertible model which featured a two-pane glass rear window that folded down with the roof. It was also the last year of the 289 Hi-Po, but the first year for the 320-hp 390cid 4V
V-8 and a 428cid engine used in the Shelby G.T. 500. This was raw power back in 1967. The 1967 GT390 Fastback is my favorite Mustang. My father actually owned one. 1967 also spawned the only year for the GTA, which was a Mustang GT with an automatic transmission. They were available in coupes, fastbacks, or convertibles and with either the 289 engine or ford 390 engine. In 1967 only 400 High Country Specials were made available in Columbine Blue, Aspen Gold or Timberline Green. For more information on High Country Specials visit www.CaliforniaSpecial.com.
Eight Mustang Stallions were produced in 1967. They came with various engines - 289 HiPo, 390 ford engine, or 427 engine, GT equipment, 4-speed manual trans or C6 Select Shift Cruise-O-Matic transmission, special side vinyl treatment, limited slip rear axle, console, power steering, power disc brakes, deluxe steering wheel, deluxe seat belts, Stallion emblems, F70x14 wide oval belted tires, fold-down rear seat, Cougar taillights, and special steel wheels.
Now for some more meat under the hood, the Shelby G.T. 350 packed a 289cid Hi-Po, and the G.T. 500 got the 428. Theses were all fastbacks, but Shelbys got more body attention than Shelbys of 1965 and 1966. The grille wore its bright lights in the center with a Shelby logo on the passenger side. Some states' laws required that the fog lamps be moved to the outer edges of the grille, which actually allowed the car to breathe better by opening up the radiator. A few 1967 Shelbys had red marker lights inside the upper side scoops. Many states' laws didn't allow this either, and only 200 models left the factory with them. The trunk had a "ducktail" spoiler, and taillights off the Mercury Cougar ran nearly the full width of the car.
The G.T. 500 models featured a padded roll bar and optional racing-style shoulder harnesses.
Only one Shelby Super Snake was made in 1967. It was supposed to be the first of 50 manufactured, but no other Super Snake was built due to the retail price was $7,500 and a 427 Cobra could be purchased for basically the same amount. Just a note that this car today is potentially worth over $200,000. Carroll Shelby recorded lap speeds over 150 mph and top speed of 170 mph! It was factory equipped with a unique blue narrow-wide-narrow Lemans Stripes; powered by a 520-horsepower lightweight 427 medium-riser engine with aluminum heads, tuned headers, 780 CFM Holley 4V carb, aluminum intake, oil cooler, remote filter, 4 speed trans backed up by a 4.11 Detroit locker rear end. Need I say any more?
The 2000 movie Gone in 60 Seconds featured a custom 1967 Shelby G.T. 500 referred to as Eleanor. Unique Performance began making Eleanor clone Shelby G.T. 500E Mustangs of out 1967 and 1968 fastbacks in 2003, but modern engine and suspension technology replaced the '67 parts. The first unit produced sold at the 2003 Barrett-Jackson Auction for $194,400.
Shelby de Mexico manufactured 169 1967 Shelbys which were almost identical to the U.S. model. They all had 289 V8s.
The 1960's brought wars with muscle cars from many of the top car companies. Some cars worthy to mention are; Chevrolet Camaro, Mercury Cougar, Pontiac Firebird, and Plymouth Barracuda were all in Mustang's class in 1967. All of these cars cut Mustang's sales, but Mustang outsold its nearest competitor, Cougar, by a three-to-one margin.