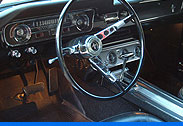 :::::::::::: Year ::::::::::::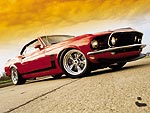 There were several changes for the 1969 Mustang
The corralled grille pony was replaced with the pony and tribars logo, set off-center to the drivers side.
The overall length increased by almost 4 inches, and the width increased by almost half an inch.
Dual headlamps were added with the extra pair set into the outer area of the grille
Coupes, fastbacks, and convertibles were still offered, but new models joined the lineup in 1969 including: Mach 1, Boss, and Grandé. All of these models competed with GT sales; they were continued in 1970, but the GT wasn't.
Approximately about 50 Mustang Es were produced. They were economy cars with a 250ci six cylinder engine, automatic transmission with a special torque converter, and a low 2.33:1 rear axle ratio. They were all sports roofs, and had Mustang 'E' lettering on the rear quarters. Seriously, what a waste of a muscle car.
The Ford 351 V-8 was introduced in 1969, and was available with either 250 or 290 hp. For those wanting more power, there was a 335-hp 428 Cobra Jet V-8 big block available with or without Ram-Air. More than 80 percent of Mustangs in 1969 had the V8 engines.
The 1969 Mach 1 Mustang was essentially a fastback GT with modified stripes and a nicer interior. A spoiler and rear window louvers were optional for this model.
The Mach 1 included the GT's non-functional hood scoop. Although, a functional "Shaker" scoop was an option. It was mounted on top of a special air cleaner and stuck out though the hood. The vacuum-operated door opened when the throttle was hit, allowing cool air into the carburetor. This scoop was standard on the 428 Cobra Jet Ram-Air V-8 and optional for Mach 1 or GT with 351 or 390 engines. The stripe package was reflective. Later in the year, a flat black rear spoiler became an option.
Grandé Mustangs were built and meant for the luxury-minded buyer. They were only offered as coupes and came with Comfort Weave seats, wood grain dash, padded interior side panels, and thick carpeting.
In our opinion the most exciting addition was the Boss 302, which was a fastback with a high-performance version of the 302 V8 engine. The exterior featured side striping, a partially blacked-out hood, front air dam, a rear spoiler, and no side scoop on its rear fenders. For more information on the Boss 302, visit their web site.
Spawned from the 302 would come what is considered the meanest of all Mustangs; the Boss 429 which featured the stock NASCAR version 429 engine. These cars were built by Kar-Kraft at the KK-Brighton assembly plant in Brighton, Michigan. Each Mustang was hand assembled. The Boss 429 Mustangs were available in the following colors:
Raven Black
Royal Maroon
Black Jade
Candy apple Red
Wimbledon White
All interiors were black.