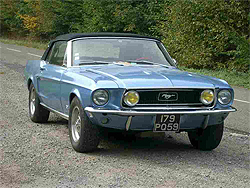 The 1968 Ford Mustang got a few changes including:
A new grille
The corral around the pony were made thinner than in 1967
The horizontal bars were removed and chrome trim was added-The side scoops were thin chrome pieces, and "Mustang" on the fenders was written in cursive rather than block letters.
1968 was the first year for shoulder seat belts.
A massive 427 ford engine was launched on 1968 Mustang GT's. Other updates included standard front disc brakes, performance tires, better suspension, and dual exhaust with chrome quad outlets. The Ford 427 really tore up the road and made this car very cool and fast in its era. In addition, '68 brought new steel wheels in chrome or painted silver with special GT hub caps.
On April 1, 1968 the 428 Cobra Jet was brought to life. Transmission options were either 4-speed manual or six-speed automatic. Eventually 2,253 Cobra Jet Fastbacks and 564 Cobra Jet coupes were manufactured.
There was a special West Cost only Mustang GT/California made in 1968 available only in coupe. This Shelby inspired rocket looked mostly the same with a few changes made this year. Ford made 251 High Country Specials and all were coupes.
Only a few Shelby Mustang convertibles were made in 1966-1967. In 1968 518 were made. This model had rectangular fog lights which replaced the round ones from 1967, and Thunderbird taillights flashed sequentially with the turn signals. The G.T. 350 was bumped from the 289 in '67 to a 302 in '68, and the 500s kept the 489. WOW! The GT500KR was powered by a 428 Cobra Jet. Only
517 GT500 KR Convertibles were made, making them one of the rarest and most valuable Mustangs ever produced.