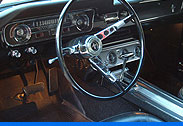 :::::::::::: Year ::::::::::::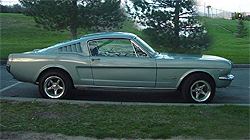 There weren't too many changes for the 1966 Mustang. The grille design changed slightly. The 1966 models had the running pony inside the corral free-floating on horizontal grille bars. There were some slight revisions to the side trims and a restyled gas cap topped of the exterior changes. The interior went through a few changes too. The instrument panel was redesigned with five round gauges, replacing a panel borrowed from Ford Falcons of prior model years (1963 ford falcon, 1964 ford falcon ?). Ford Motor Company broke the 1,000,000 Ford Mustang mark in 1966, only 18 months after its introduction. To celebrate this success, Ford released the Sprint Mustang. They were mechanically identical to other 6 cylinder Mustangs, but had a chrome air cleaner and a special engine decal which displayed "Mustang powered Sprint 200."
The mustang's rear seat returned and a broader variety of colors were offered on 1966 Shelby Mustangs, making them more consumer-friendly. To allow for more visability, 1966 Shelby vents behind the windows were replaced with quarter windows. The fuel door wore a Cobra logo rather than the pony & tribar from '65. Just a note of history, roughly the first 300 1966 Shelby G.T. 350s didn't get the "G.T. 350" decklid badge, but the rest did.
Hertz corporation ordered 1,001 of the G.T. 350s to offer as rentals. Too bad they aren't arouns today! The side stripes read "G.T. 350H", but the cars became know as "Rent-a-Racers." Some devious Mustang owners would rent the Shelbys from Hertz, swap the motor with the motor in their Mustangs, and return them to Hertz. Man, what a good idea! You weren't the coolest kid on the block if you owned a former rental car (not much has changed today), so many of the cars had any and all reference to Hertz removed once the cars were bought. Thanks to the Shelby American Automobile Association, however, many of these cars have been found. More than 800 were made in black, and the other 200 or so were divided between red, green, blue, and white. Only the black models and a few white ones had stripes on the hood, but many owners added them to the other cars during restoration.
In 1966, only six Shelby G.T. 350 Convertibles were produced, all of different colors, making them the rarest of Mustang convertibles. Shelby also pumped out 11 supercharged 1966 G.T.350S. Wow! What are these worth today?! In 1966 there were 333 High Country Specials produced. Only 35 out of the 333 were convertibles. The High Country Special was a special promotion that Ford ran from 1966-68. These bad boy Mustangs came in three special colors: Timberline Green, Columbine Blue, and Aspen Gold. All came with special emblems that dealers were free to mount where they wanted. These models were restricted to the following states; Colorado, Wyoming, and parts of Nebraska.